Medical Camp for Polio - affected patients rehabiliatation
Dawn News Dated 30-07-2018
Daily Aaj 31 July 2018
Daily Pakistan 29 July 2018
Oath Taking Ceremony PPTA KP Chapter
at Mahboob Medical Institute (MMI) Peshawar
Cheif Guest - DG Health Khyber Pakhtunkhawa
K. M. U., I. C. R. C. and Special Eudacation Representatives attend the Ceremony as well
World Refugees' Day
An Article by the Chairman Mahboob Medical Institute
Dr. Mahboob ur Rahman
Published on 21st Feb. 2018 in Daily Pakistan

An Article by the Chairman Mahboob Medical Institute
Dr. Mahboob ur Rahman -
Published on 21st Feb. 2018 in Daily Pakistan


About H. P. C.
https://m.facebook.com/mahboobur.rahman.102/posts/1728926583824602?comment_id=1730581460325781&src=email_notif#_=_
C. P. Children International Day
Celebrated at Mahboob Medical Institute - Peshawar
Coverage by Press

https://www.facebook.com/photo.php?fbid=1605873286129933&set=a.177563492294260.59106.100001218308949&type=3&theater&ifg=1


The Need of Physiotherapy Council
highlighted by Dr. Mahboob ur Rahman - Chairman; PPTA / MMI
https://www.facebook.com/groups/101375620342485/

World Physiotherapy Day 2017
Article by the
Doctor Mahboob ur Rahman
Chairman Mahboob Medical Institute

It's a matter of immense pleasure for me to write about physiotherapy while celebrating World Physiotherapy Day on 8th September 2017. The physiotherapy was rarely known among the public just a decade or few years back in Pakistan, Physiotherapy which is a way of treatment through physical means and avoiding the medicines which has more side effects along with financial burden on the family. Physiotherapy regime plays important role in acute conditions like chest physiotherapy, which is a life saving procedure and after accident, trauma or surgical intervention; physiotherapy may save the life as well as early recovery, rehabilitation and mobility may be ensured. Physiotherapy is the only solution in all paralytic conditions of children like polio and cerebral palsy. In adult paralysis like; stroke and traumatic head injury, the rehabilitation is possible through a long physiotherapy management.
In all muscolatural disorders, joint pains, arthritis of knee joints, backache and neck pains, the physiotherapy plays a major role and in a safe way of treatment and it's worthy to mention that according to a study by me as Chairman; Habib Physiotherapy Complex and Mahboob Medical Institute in 2012, 68% patients coming for physiotherapy were having neck pain, backache and knee joints pains which means that a large number of population of our country is becoming unproductive due to these joint pains and leads to disability.
The Khyber Pakhtunkhawa is more prone to natural disorders like earthquake and flood and man-made disorder like war against terrorism. As such it has increased the scope and importance of physiotherapy and rehabilitation services. Till 2007, there was no physiotherapy institution in the province when Mahboob Medical Institute took initiative with Gandhara University started Degree Courses as B. S. Physiotherapy and Doctor of Physiotherapy. Later during the last 10 years, there are one dozen Physiotherapy Institutions throughout the Province and more than 100 in the country. Now Physiotherapy Services have been extended to 25 District Headquarter Hospitals and Agency Headquarter Hospitals FATA by Health Department Khyber Pakhtunkhawa and I can proudly say that as Provincial Coordinator, Rehabilitation Services for Physical Disabled – Heath Department, I struggled to get approved PC 1 by the Government and implemented in true spirit and by providing state-of-the-art equipment and human resource; one male and one female physiotherapist where we have been able to extend physiotherapy sessions by provision of 150000 Physiotherapy Sessions to the needy people at their door step and Punjab has forwarded the same by the current year.
The idea behind the concept was to provide the physiotherapy services at door step so we may be able to minimize the physical disabilities where due to non-availability of rehabilitation services, minor disabilities were leading to permanent disabilities. The rehabilitation service in our province are now available as Habib Physiotherapy Complex, Paraplegic Center, PIPOS, AKI, RAFSAN Center, Rahman Medical Institute and Northwest General Hospital where the tertiary care hospital like Hayatabad Medical Complex and Lady Reading Hospital are well equipped in Rehabilitation Services and Human Resources.
I am pleased to share that Mahboob Medical Institute; Habib Physiotherapy Complex is running state-of-the-art and comprehensive facilities of rehabilitation like physiotherapy, speech & audiology, artificial limbs like orthotics and prosthetics and clinical psychology under one roof as a model of multi disciplinary approach for rehabilitation of disabled. For the first time in Peshawar, we have also been succeeded in launching physiotherapy and psychotherapy in a school system and as such a set up of inclusive education for special children has been developed at Khushal Bagh Public School where we have addressed the issues of these children right from physiotherapy, rehabilitation, artificial appliances, education, behavioral therapy up to social inclusion.
Though I have been diverted from the topic of physiotherapy but it was important to mention about the road map and role physiotherapy in prevention of disability. Now at the end, the print media and electronic media role for the physiotherapy awareness is not been neglected which may result in minimizing disabilities. As now need is felt for Regulatory Body of Physiotherapy, the Federal Government has been insisted for Pakistan Physiotherapy Council and hope it will be materialized by the end of the year.



World Physiotherapy Day 2017
A Free Phsyiotherapy Camp Press Release

Multidisciplinary Team examined the patients at Habib Physiotherapy Complex, Peshawar.
While celebrating the World Physiotherapy Day at Mahboob Medical Institute; Habib Physiotherapy Complex – Peshawar arranged a Free Camp for physically and mentally challenged people and special children on 9th September 2017. There was a well organized team as Psychologists, Physiotherapists, P & Os and Speech & Audiologist participated and after identification of the problems, the patients were referred to relevant team for assessment and possible arrangements.
just checking
The behavioral therapy, physical therapy management and artificial limbs requirements were noted down for possible management. The PTA test for hearing impairs for children and other patients were done. The special children with autism and learning disability were identified and polio affected children treatment protocol was given. Adult paralysis cases and joints pains patients were present in quite a high number. Dr. Mahboob ur Rahman, Chairman Mahboob Medical Institute/Habib Physiotherapy Complex along with his team, examined all these patients.
Mr. Mujeeb ur Rahman DMO Health, Dr. Sheraz Khan AD, DGHS, Zia ur Rahman PIPOS and notable guests were present on the occasion. Cake Cutting Ceremony regarding 8th September was done.


Awareness of Physiotherapy to avoid Disability Stressed
an Article by Chairman M. M. I. Dr. Mahboob ur Rahman
Published in the Frontier Post on 5th Oct. 2016
http://epaper.thefrontierpost.com/article/410624//#.WC3GXOD2E2A.gmail


Article by the Chairman - M. M. I.
Hoping Polio Free Pakistan Soon



http://www.hpcpk.org/admin/assets/files/ARTICLE%20by%20SIR.pdf
PREVALENCE OF NON COMMUNICABLE DISEASES AND THE ROLE OF PHYSIOTHERAPY AS ITS TREATMENT,
RELATED TO GENDER AND SOCIOECONOMIC STATUS
Mahboob ur Rahman , Rameen Habib , Amin Ul Haq, Farkhanda Rahman

http://www.globalhand.org/en/browse/regions/Asia/all/organisation/44622#.V1ujBRZNx2w.facebook
ANOTHER PRIDE FOR HABIB PHYSIOTHERAPY COMPLEX
SERVICES RECOGNIZED BY GLOBAL HAND INTERNATIONAL

http://epaper.dawn.com/DetailNews.php?StoryText=05_01_2016_183_003
SAUDI FUNDED HOSPITAL to PROVIDE FREE PHYSIOTHERAPY SERVICES

One Day Seminar at Mahboob School of Physiotherapy
MCKANZIE ASSESSEMENT & TREATMENT TECHNIQUE
for LOWER BACK PAIN



an Article by Dr. Mahboob ur Rahman
Prevention of Disabilities
Published in Daily AAJ on 5th Sept. 2014





Articles by Dr. Mahboob ur Rahman
about the State of QATAR
Urdu Aricle was published in the Daily AAJ
on Sunday 10th August, 2014




News published by Daily Mashriq
5th May, 2014







coverage by Daily DAWN - 9th March, 2014
http://epaper.dawn.com/DetailNews.php?StoryText=09_03_2014_183_001
More from this page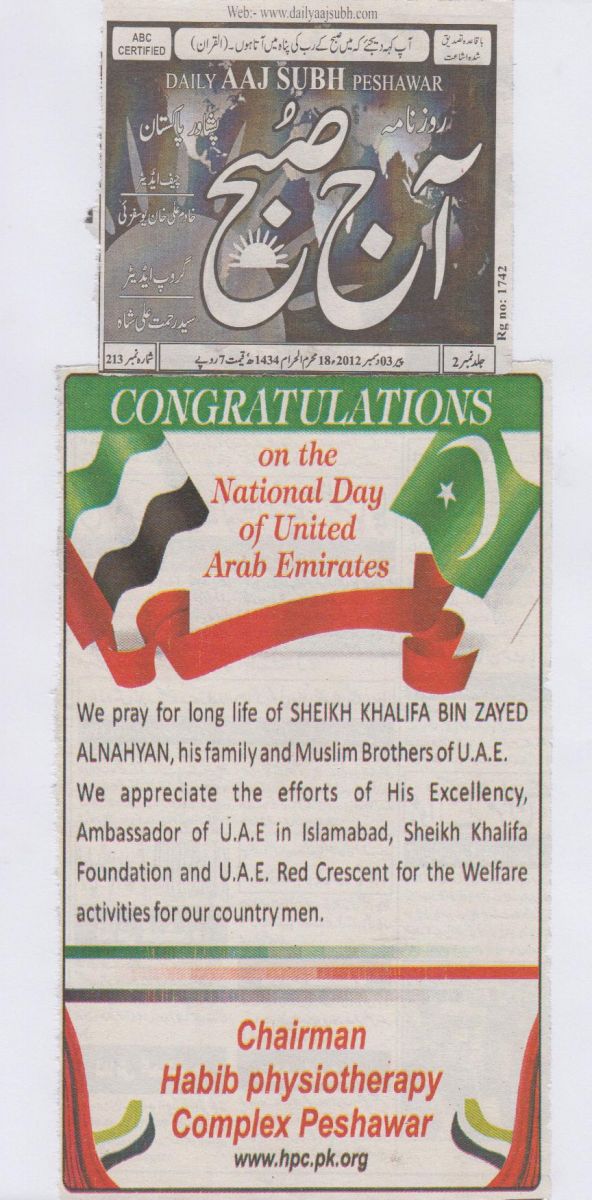 Oath taking ceremony PPTA KPK chapter